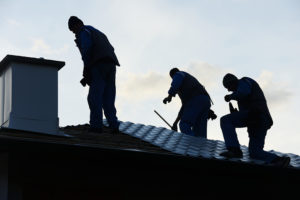 Roofing lead generation is the lifeblood of a thriving roofing business. You have many options to include in your roofing business plan—referrals, word-of-mouth roofing advertising ideas, coupons, etc. All these options can be effective to generate roofing leads but the one that is often overlooked is SEO for roofing contractors. You may have heard of SEO for roofing contractors but have been confused at what it is and what it can bring to your roofing business.
SEO, or search engine optimization, can be your most cost-effective process for roofing lead generation. According to BrightLocal between 80-90 percent of all purchasing decisions begin first with a search on the internet. When a person types a phrase such as, "Roofing contractor (city and state)," the search engines—Google, Bing and Yahoo!—crawl through the internet to find what they consider the most valuable and relevant websites that match the search terms used. If your website includes pages that contain those phrases in well-written content that is useful and valuable, your site will be ranked near the top.
It's actually that simple—but not that easy. The key is to have the right number of keyword phrases embedded in the right number of pages to target cities you serve and services you provide. Proper coding and well written pages function as landing pages that target the phrases people use when searching for a roofing contractor. When they land on these pages, their questions are answered and there are buttons or links for customers to contact you.
Some roofing business plans include budgets for pay-per-click advertising (PPC). This strategy can get your site advertised on the first page of a search result provided you are willing to pay the current bid price, which is increasingly expensive. Just remember that according to web analytics, only 20 percent of people searching for your services click on these ads and they drop from the page when you have reached the end of your monthly budget. SEO for roofing contractors stays in place 24/7 and generates five to ten times the customer visits to your website which results in a steady stream of potential roofing leads. Those same web analytics also note that 80 percent of internet searchers click on these "organic" or natural rankings as opposed to the ads.
At Make Top 10, we understand the importance of SEO for roofing contractors and getting a first-page ranking on all the major search engines is critical for generating roofing leads. You can read more about the importance of first page ranking in this article: Top 10 Reasons Why Your Business Must be in Google's Top 10 Results.
When considering a company that provides SEO for roofing contractors such as yourself, always ask this question: What results should I expect? A lot of money from roofing marketing budgets is spent on SEO that doesn't work. At Make Top 10, we guarantee our results—top ten rankings targeting multiple keyword phrases within 90 days or we refund your money.
If you would like to set up a consultation for a roofing SEO strategy for your company, contact john@maketop10.com to discuss how to get roofing jobs through our SEO services.